NAME OF DOG - NICO
BREED OF DOG - YORKSHIRE TERRIER
SEX OF DOG - MALE
AGE OF DOG - WILL BE 10 IN SEPTEMBER
NEUTERED/SPAYED - NEUTERED
VACCINATED – HAD FIRST JAB
MICROCHIPPED - YES
INSURED - NO BUT RECOMMENDED
OTHER DOGS – YES
CATS - UNKNOWN
CHILDREN – UNKOWN
APPROX WEIGHT - 6kg 05grm
APPROX HEIGHT TO SHOULDER - 10" to shoulder
I now have Nico here, he arrived by train at 6.30pm, from the Blue Cross
Animal Hospital, Sue had been asked if we could take him on for fostering as they had no room at the Inn.
He has not been ill its where his old owners took him to the vets .
A few facts, he will be 10 in September, weighs 6kg 05grm at the moment, will need to get that down.
We think the old owners have had him 4 years, but he recently bit an older lady while she was in the bed and she moved the bed covers.
If any dental needs doing now or in the future, it can be done free of charge in London. This is not transferrable to any other vet.
You can see Nicos progress from when he arrived to the rescue, to now, on his thread nico
http://yorkie-rescue.friendhood.net/t4900-nico-has-arrived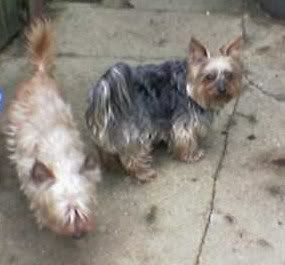 Before an application is made please read the following carefully:
Please do not apply for the dog unless you have the funds to pay the donation fee, We do not have the facility to hold dogs in our care until the prospective owners have the funds to adopt the dog.
Only apply for the dog if you intend to travel to the fosters carers location, We do not deliver dogs or allow a third party to collect, the adoptor/s must travel to view the dog.
Anyone wishing to be considered for the adoption of NICO is required to complete an adoption form after carefully reading all the adoption rules & procedures please.
Please be aware that you will only be called if you have been chosen to adopt, we do NOT call every applicant
The adoption form can be found by clicking here: http://www.yorkieandtoybreedrescue.co.uk/adopting.html
Last edited by Admin on Thu Jan 27, 2011 9:28 am; edited 2 times in total